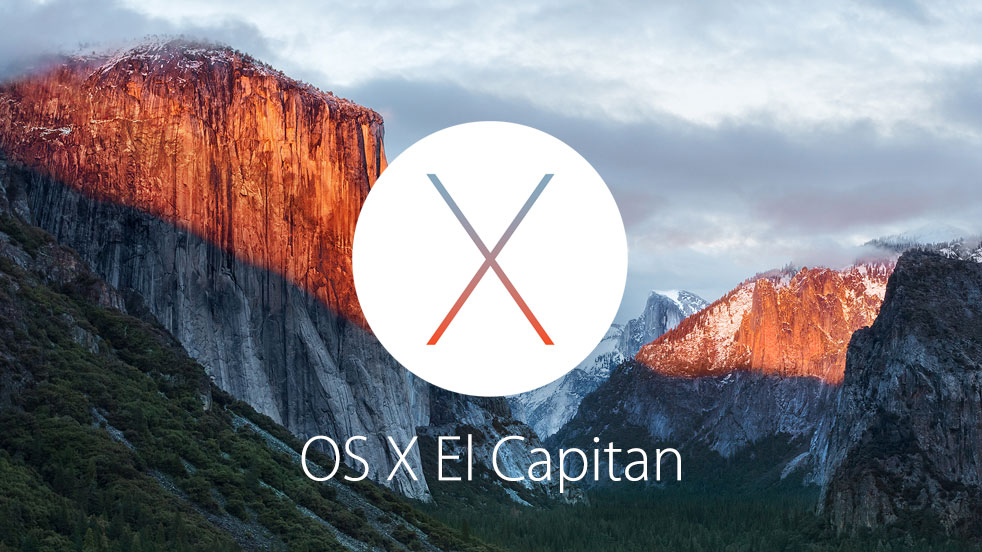 The software for Mac OS X El Capitan is an upgrade focusing on improvements to performance, design and usability of OS X. Compared to its predecessor Yosemite, Apple says that launching apps is 40% faster, opening PDFs is four times faster and viewing messages in Mail is twice as fast. So check out some of the features that we think are worth mentioning.
1. Smarter Mail
Just like Microsoft Outlook integrates with Outlook Calendar, Apple has made its Mail communicate to the Mac Calendar. If you get sent a meeting request, it will add that date to your calendar.
2. Mission Control Returns
El Capitan's predecessor Yosemite made a mistake when it changed Exposé into Mission Control and subsequently grouped open windows by app. But now things have returned to how they used to be, so you'll be able to see minimised views of your documents and can see and select the one you want. To activate Mission Control, tap the short-cut button on your keyboard or F3.
3. Cursor Locator
Keep losing track of where your cursor is pointing? Panic no more: Apple has brought in a great cursor-finding feature. Just rub the trackpad or shake your mouse and your cursor will enlarge instantaneously. If you use photo editing apps on mac or other mouse-concentrated features you have the option of turning the feature off in System Preferences> Accessibility.
4. Safari's Pinned Tabs are Essential
Safari now allows you to pin tabs in order for you to swiftly access your commonly used sites with ease. Moreover. Safari will always keep the tabs you've pinned, even if you shut down your desktop.
5. Split Screen has Arrived
With this new OS you can finally have Windows' best feature: split-screen windows and apps. You can create a split view or drag open windows together from your desktop to place them next to each other automatically. To activate Split Screen mode you can hold down the full screen button

 and as you hold the button you can pull the window to the left or right side of the screen and then click another window to begin using both windows side by side. Alternatively you can use Mission Control and drag a window onto the thumbnail of the full-screen and force them into split screen mode.
6. Safari adds Tabbed Audio notification
Nothing is more annoying than going on a website that has an advert with sound enabled as default or has a video that automatically plays. Fortunately the newest update of Safari allows you to see where the sound is coming from by placing a little speaker notification in the tab. If you still want to use the tab you can stop the horribly-dubbed audio by simply clicking on the speaker icon and Safari will automatically mute it for you.
7. Maximise Desktop Space
Want to stop your desktop from being cluttered? In El Capitan you can conceal your Menu bar as well as the Dock. To use this feature go to System Preferences and Tick "Automatically show and hide the menu bar".
8. Push Notifications
Tired of the constant alerts from Facebook, Calendar and many other apps that you may have installed? The asset feature: Notification Centre lets you turn of notifications on an app by app basis. The feature now allows you to group notifications in the Notification Centre by app which means you can see all your notifications as legible ordered lists.
9. Make Photos powerful with great third-party extensions
Apple has added a new photos app to replace the waning iPhoto. There have been significant improvements made to image editing and you can add extra effects via third-party extensions. These extensions can be downloaded from the App store and they can be accessed by going into "edit" mode on a photo and selecting the "Extensions" option.
10. Locate and Use Emoji's faster than before
With El Capitan you are able to promptly add an emoji to whatever you're writing by pressing
Ctrl + Command + Spacebar to open the OS X character viewer. You should be able to quickly access and add any Unicode emoji found on Apple's systems- including the Taco.
11. The Notes app has evolved
Notes is no longer just an application for, well, jotting down notes. The feature is now a tool for pulling PDFs, storing images and of course taking richly detailed notes. Another great feature is that you can search for your uploaded images and easily find something that you've saved.
12. Spotlight can now search by natural language
Spotlight has finally grown a brain and no longer needs for you to spell out what you're looking for to the letter. The natural language processor enables Spotlight to detect phrases. Now you can say "emails from Jacob with attachments" instead of keywords such as "kind: email" and Spotlight will deliver.
Although some of Apple's competitors are ahead with a few of these features, Apple takes them to a new level. Many applications such as spotlight and Notes are becoming more powerful and innovative. Searching for information has been made simpler and little improvements such as the cursor locator allows you to use your Mac more efficiently for all kinds of everyday tasks.