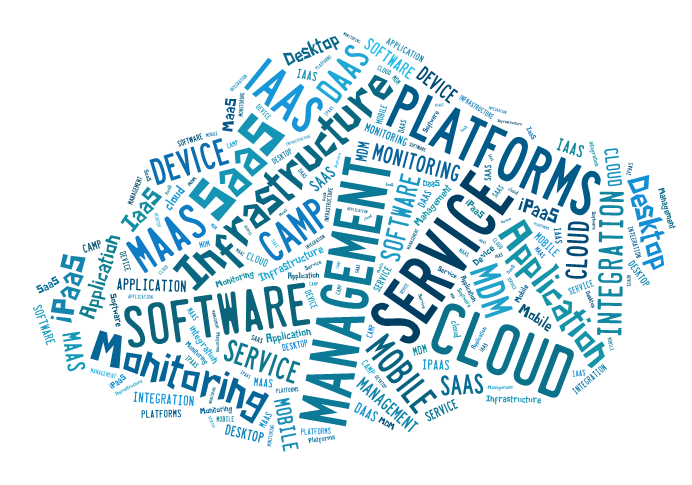 Cloud-based computing is taking the place of more widely used hardware and physical software by permitting users to connect to physically distant digital systems which are maintained and updated by the vendor rather than the user. Modern cloud platforms allow instant access to shared computing resources including software, applications and networks.
Although the cloud is making running a business easier from an IT perspective, it comes with the baggage of an overwhelming amount of baffling acronyms so we thought we'd help you out with 7 of the most common:
1. SaaS- Software as a Service
SaaS is a common acronym for centrally managed software on demand. It is usually provided on a subscription basis and has become a common delivery model for many business applications, including Office and messaging software, development software, accounting and content management. One of the major selling points for SaaS to enterprise software companies is the potential to reduce IT support costs by outsourcing hardware and software maintenance and support to the SaaS provider.
2. IaaS- Infrastructure as a Service
IaaS is virtual hardware companies can purchase instead of owning and operating their own data centers. IaaS provides access to remote data center infrastructures which can be used for virtual server space, network connections and bandwidth. Despite the cloud being responsible for maintaining the network of servers that IaaS is on, users are responsible for upgrading and managing middleware and operating systems. Amazon Web Services, and Microsoft Azure are a couple of leading providers of IaaS.
3. MaaS- Monitoring as a Service
MaaS is a framework to monitor specific elements of servers and systems in the cloud. The primary use of MaaS is data collection about real-time functioning of IT components and performance. Another common function for MaaS is online state monitoring which tracks states of networks, applications and systems.
4. CAMP- Cloud Application Management for Platforms
CAMP was designed to resolve incompatibilities between cloud environments by simplifying the management of multiple cloud applications. Because PaaS include their own API (application programming interface) to configure and monitor applications used on that platform, when PaaS are used in conjunction by different vendors the APIs conflict. So CAMP allows for collaboration between these PaaS.
5. MDM- Mobile Device Management
A cloud platform brought forward to accommodate the budding trend of BYOD (bring your own device), MDM facilitates compatibility and security among several devices (including tablets, laptops and smart phones) in company networks where employees may work on a plethora of devices using various operating systems.
6. DaaS- Desktop as a Service
A cloud service which permits users to access their desktops from different devices and provides smooth transitions between many devices. DaaS is generally used by businesses with employees who work remotely or from their own devices.
7. iPaaS- integration Platform as a Service
iPaaS is a service used to help make cloud applications compatible with one another. Individually they cannot communicate or share data with each other across the cloud; especially problematic for businesses who use multiple SaaS and IaaS from different providers.
The above is a basic overview some terms you may well run into and technologies you might not have thought about, for your business. And if you think they sound "too big" for you, remember that the beauty of cloud services is their ability to scale as big or small as your requirement- and that includes the price point too!
If you want further information about the cloud or want help with migrating your systems to the cloud. Contact Our Account Managers by email (info@northernstar.co.uk) or by telephone (+44 (0) 800 319 6032).